AUGUSTINE AND SINFUL SEX
The Promoter of No Sex in Marriage
Have you ever heard this popular saying? "According to the Bible, Adam and Eve's sin in the garden of Eden was having sexual intercourse." Along that same line, there is the case of the young lady estranged from her husband who explained to her counselor that she had aversion to sex in her marriage because she'd been raised that sex was a dirty thing. Now where would they have heard such things? Would it have been some religious teacher? If you said, "Yes", you would probably be right.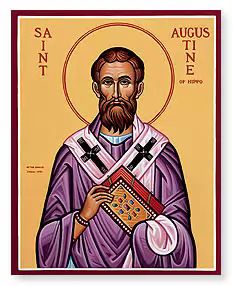 fm. monasteryicons.com/monasteryicons/Item_
St-Augustine-of-Hippo_703_ps_dpr.html

There are sincere students that look for ancient manuscripts that would explain what the apostles meant about marriage in the church. However, this they are ignorant of: in the first century we know that there were false teachers very early in the church (e.g., 1 Timothy 1:7; Titus 1:10,11). Even some that had been close to Paul were already turning aside from the Lord, such as Phygellus and Hermogenes (2 Timothy 1:15).

i "These have indeed an appearance of wisdom in promoting self-made religion and asceticism and severity to the body, but they are of no value in stopping the indulgence of the flesh" (Colossians 2:23, ESV2011).

Therefore, those that try and find "lost books" of first or second century Christians for guidance and understanding of marriage do err. We don't need to read writings from contemporaries who knew the apostles to know what the Bible "means." In fact, they may have been the very enemies of the cross that attacked Paul.

ii

One revered for his scholarship is the "Bishop" and "Saint" Augustine, of the fourth century (almost 400 years after the cross). According to "Father" Thomas Raush, Chair of Theological Studies, Loyola Marymount University, Augustine "has so impacted negatively with Christian tradition" and shaped "Christian views on sex, based on his own struggles to be 'chaste'. " iii Augustine admitted that he had major problems with sex.

iv

v He is responsible for making the indissolubility of Christian marriage, even after adultery, the standard of the Western church.

vi

To such a one as Augustine sex was something sinful that had to be satisfied in the red light district; then pay some money to the priest and get forgiveness. To him marriage was too holy for recreational sex, because of Ephesians 5:32, from whence the term "sacrament" was invented in the Latin Vulgate: "This is a great Sacrament. And I am speaking in Christ and in the Church." Of course if Augustine had known Greek and had the Greek epistle, he would have known the word was not "sacrament" but "mystery."

It is somewhat comforting to know that not all religious scholars of the past so disdained marriage. Gregory Nazianzen wrote, for example: "Marriage does not distance us from God; indeed it draws us near to him as it is God himself who urges us to it" (Moral Poems 1, 275). Likewise, John Chrysostom: "Those who find marriage an obstacle [to life with God], should know that it was not marriage but their free will that used marriage badly" (Homilia Hebr. 7, 4).




"He who finds a wife finds a good thing, and obtains [receives] favor (Greek: charis) from Jehovah" (Proverbs 18:22). Charis can be translated as "grace". So, marriage is a grace from God. Or, God designed it to be His gift to you.





-Gaylon West

Marriages Made From Heaven

Throw Out the Lifeline

BibleStudyLessons.net