"Come now, and let us reason together, saith the LORD: though your sins be as scarlet, they shall be as white as snow; though they be red like crimson, they shall be as wool " (Isaiah 1:18). "And almost all things are by the law purged with blood; and without shedding of blood is no remission" (Hebrews 9:22). "Blessed [are] they whose iniquities are forgiven, and whose sins are covered. Blessed [is] the man to whom the Lord will not impute sin" (Romans 4:7,8; Psalm" 32:1,2, KJV).
Do you want to offer your goat as sacrifice for religion's sake? You can in Florida and Texas. In 1993 the Supreme Court in the case of the "Church of Lukumi Babalu Avenue versus the city of Hialeah (Florida)" upheld the Santeria believers to ritually offer sacrifices of goats, sheep, chickens. In 2009 in Euless, Texas, a similar sect under Jose Merced, was victorious in court. The city cannot interfere with this person's religious rites. These deeds are exempt from the slaughterhouse restrictions.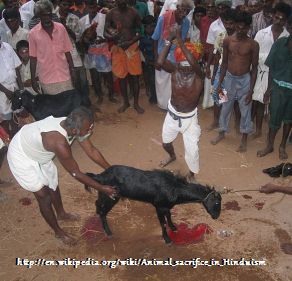 This is not the first time that animal sacrifices have been practiced in the States. Animal sacrifice was instituted by a Latter Day Saints faction led by James J. Strang in 1844.
All historical religions have at one time or another have practiced offering animal sacrifices to their gods. Recent archaeological findings of basins for animal sacrifices by the Minoans of Crete date back to the time of Abraham, around 2000BC. We know that such rituals were in all ancient cultures, including the Sumerians, Greeks, Romans, and most recently Germanics, Celts, Aztecs, and Mayans. Hinduism had such rituals in its ancient development which was called Ashvamedha. Brahmanism included sacrifices which Buddha during his time condemned. The denomination of the Hindus that continue to practice such sacrifices is Shaktism.
Animal sacrifices were offered in ancient ancestor worship in the Far East; Confucius even approved of them.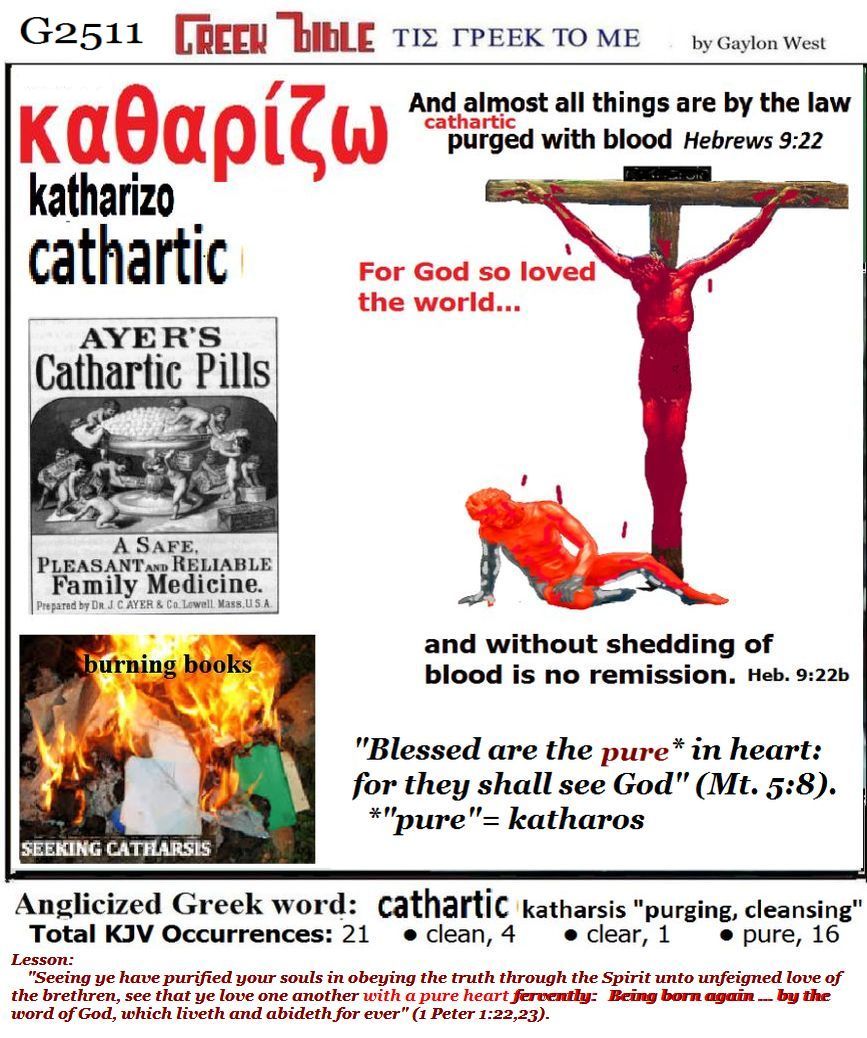 Modern religions that interestingly require animal sacrifices include (1) Islam, when the Muslims are engaged in pilgrimages to Mecca during the celebration of the Eid al-Adha and (2) the Catholics, Greek Orthodox and other "Christians" in Taybeh, 20 miles from Jerusalem, and in Lodd, Jaffa, al-Khadar, etc. "
Where did this "common" religious practice originate?
According to the Bible from the dawn of creation, man has endeavored to be resolved of guilt by sacrificing animals. Abel is the first reported man to have offered an animal sacrifice to God. However, he did that by faith (Hebrews 11:4) which means that he had been divinely directed (Romans 10:17).
Before that, God Himself had covered man and woman's nakedness with that provided by the first deaths in history; that of animals. "Unto Adam also and to his wife did the LORD God make coats of skins, and clothed them" (Genesis 3:21). There is no significance in the use of "make" asah H6213 instead of "create" bara' H1254; both words are synonyms in Genesis 1 and 2. One can, however, deduce that since skins were available on existing animals, God would not have "created" these skins out of nothing but would have made them from live animals. F. B. Hole and other commentators agree with this. The death of these animals was required so that sinful man's nakedness could be covered and he could again stand before God. Death had come into the world because of sin (Romans 5:12) in order to cover sins.
The first thing that Noah did after leaving the ark into the "new" world was to sacrifice to God. The Patriarchs, Job and Abraham, sacrificed to God acceptably. Finally, the Hebrew nation was commanded the repetitive practice of offering animal sacrifices in a specific place (Hebrews 9:7; Deuteronomy 16:6) eventually designated to be in Jerusalem under the oversight of Levitical priests. They disobeyed God at times by adding their sacrifices in "high places" (unauthorized; 2 Kings 12:3; 14:4; 15:4; etc.) as well as their sacrificing human babies to imitate their neighbors. Some Jews fled from Jerusalem's destruction in the fifth century BC and without Mosaic authority built a temple at Elephantine, Egypt (which was destroyed in the 4th century). A temple later was built again without authority at Leontopolis, Egypt, and was then the only Jewish "sanctuary" outside of Jerusalem where sacrifices were offered (http://en.wikipedia.org).
Christianity is unique in its not offering animal sacrifices. Where Christianity has gone, this ancient practice ceases with conversion. Why?
It goes back to man's felt need to sacrifice and shed blood for one's guilt of sins. When one has a full realization that only God can take away such guilt, then we look to God to do the covering for our sins. God did authorize blood sacrifices by faith to be offered as a shadow anticipating God's personal sacrifice in His Son. When Jesus as divinity in the flesh shed His innocent blood for our sins, it was sufficient. Again, God said that was all that was needed (Hebrews 7:27; 9:26).
"For [it is] not possible that the blood of bulls and of goats should take away sins" (Hebrews 10:4).
The sacrifices of Moses were efficacious only in that God authorized them in order to look forward to Christ's sacrifice. "How much more shall the blood of Christ ...purge your conscience from dead works to serve the living God? And for this cause He [Jesus] is the mediator of the new testament, that by means of death, for the redemption of the transgressions [that were] under the first testament, they which are called might receive the promise of eternal inheritance" (Hebrews 9:14,15). Without Jesus the sacrifices of old were vain and empty.
The offering expected of Christians is (1) a living sacrifice in service to God through Jesus (Romans 12:1,2); such is called "walking in the Light where Jesus is" (1 John 1:6,7) and (2) confessing our sins while living in the "light" (1 John 1:7-10). "And the blood of Jesus Christ his Son cleanseth us from all sin."
What can wash away our sins? "Nothing but the blood of Jesus."
- Gaylon West
Hymn by Will­iam Doane and Ro­bert Low­ry (New York: Big­low & Main, 1876.
What can wash away my sin?
Nothing but the blood of Jesus;
What can make me whole again?
Nothing but the blood of Jesus.
Refrain
Oh! precious is the flow
That makes me white as snow;
No other fount I know,
Nothing but the blood of Jesus.
For my pardon, this I see,
Nothing but the blood of Jesus;
For my cleansing this my plea,
Nothing but the blood of Jesus.
Refrain
Nothing can for sin atone,
Nothing but the blood of Jesus;
Naught of good that I have done,
Nothing but the blood of Jesus.
Refrain
This is all my hope and peace,
Nothing but the blood of Jesus;
This is all my righteousness,
Nothing but the blood of Jesus.
Refrain
Now by this I'll overcome—
Nothing but the blood of Jesus,
Now by this I'll reach my home—
Nothing but the blood of Jesus.
Refrain
Glory! Glory! This I sing—
Nothing but the blood of Jesus,
All my praise for this I bring—
Nothing but the blood of Jesus.
Refrain
Throw Out the Lifeline