OUR GOD IS UNCHANGING!

scroll down > >>

We live in a changing world. And yet things change and cycle so that what was yesterday's news becomes tomorrow's news (Ecclesiastes 1:9). In spite of this, there is always the ones who would update our thinking to match the illusional changes of today. There are the political right things to say and the religious right things to believe. In spite of this, my God stays the same everyday. My knowledge may improve and grow and it should (2 Peter 3:18), but the Book that tells me of God says that He never changes.
The Old Testament is just that: "old." "In that he saith, A new [covenant or testament*], he hath made the first old. Now that which decayeth and waxeth old [is] ready to vanish away" (Hebrews 8:13). Jesus' new testament came into effect after His death on the cross: "For where a testament [is], there must also of necessity be the death of the testator. For a testament [is] of force after men are dead: otherwise it is of no strength at all while the testator liveth" (Hebrews 9:16,17). The blood shed by Jesus that sanctifies us (Hebrews 10:29) is called "the blood of the everlasting covenant" (Hebrews 13:20).
"Jesus Christ the same yesterday, and to day, and for ever. Be not carried about with divers and strange doctrines. For [it is] a good thing that the heart be established with grace; not with meats,* which have not profited them that have been occupied therein" (Hebrews 13:8,9).
*"meats, which stands for the ritualism of the Jewish law." (F. B. Meyer, B. A.; C. H. Spurgeon; Biblical Illustrator by Joseph Exell; on Hebrew 13:9)
In Hebrews 13:8 it plainly states that "Jesus doesn't change": we ask, "In what way?" It is not in covenants (testaments). For in the same paragraph, the writer asserts that the heart be established with grace (a new covenant) and NOT WITH MEATS (unclean tame' meats were forbidden in the old covenant, e.g., Acts 10:11-16). The writer was aware that Jesus had previously as one of the Godhead authored the "Old Testament" given through Moses. Under the New Testament this prohibition is voided (1 Timothy 4:1-4). The Law changed, but the inspired writer still said, "Jesus Christ the same yesterday, and to day, and for ever."
Plans have to be remade in the lives of men. Let's say that a railway tycoon wants to lay a fast train route from Miami to Columbus by going through North Carolina. Let's also picture that for some economic or political reason such a route becomes unfeasible. An alternate route is made possible through Nashville. In a sense that's what happened to the original plan of God for man's eternal bliss with God. Sin destroyed the Eden plan but God had an alternate plan according to Ephesians 1:4,5. The devil fought the Lord all the way (Jude 9). However, God's plan for His Son's sacrifice was realized in spite of the devil and his followers (2 Corinthians 11:14). Meanwhile, the wisdom of God fooled the devil by "re-routing" by His covenants. "Which none of the princes of this world knew: for had they known [it], they would not have crucified the Lord of glory" (1 Corinthians 2:8). Just as we would not impugn a man's character when he wisely activates alternate plans, we must not blame God as being wishy-washy in His execution of His scheme for the redemption of mankind.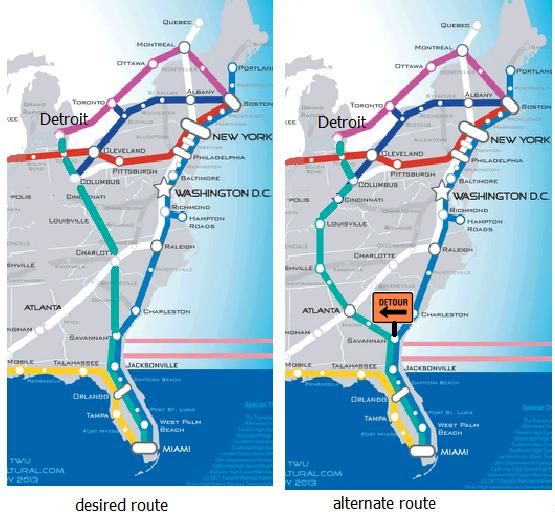 The point is, God doesn't change; Jesus is the Son of God. He is God (John 1:1); so if Jesus is the same today as He was yesterday, then so is God. God, the Spirit, and Jesus do not change. But their covenants do. God delivered the old Law to Moses. God (including Jesus) delivers the new covenant by the Spirit through the Apostles (Acts 1:2-8; 2:1-4). In some ways the covenants are different. But when we read, "Jesus is the same", it is obvious that it is not talking about the agreements called covenants.
"Every good gift and every perfect gift is from above, coming down from the Father of lights with whom there is no variation or shadow due to change," (James 1:17). God is pictured as the source of light and He does not have a shadow or dark side. John Gilli interprets this to mean that God is "unchangeable in his nature, perfections, purposes, promises, and gifts; wherefore he being holy, cannot turn to that which is evil; nor can he, who is the fountain of light, be the cause of darkness."
Unchangeable "Character of Purpose": "So when God desired to show more convincingly to the heirs of the promise the unchangeableii character of his purpose,iii he guaranteed it with an oath, so that by two unchangeable things, in which it is impossible for God to lie, we who have fled for refuge might have strong encouragement to hold fast to the hope set before us" (Hebrews 6:17,18). The two unchangeable things are understood to be (1) God's nature and (2) His oath.iv We have a "Gibraltar" type of hope and a guarantee of God's promises. As Paul wrote to Titus, "In hope of eternal life, which God, that cannot lie, promised before the world began" (Titus 1:2).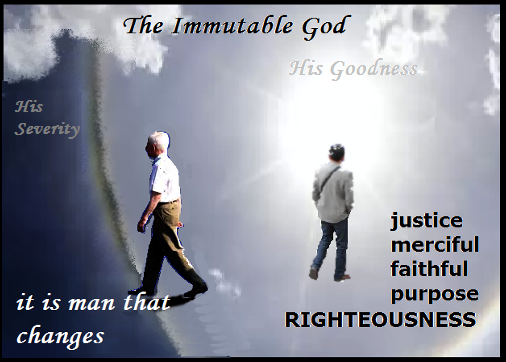 Therefore is judgment far from us, neither doth justice overtake us: we wait for light, but behold obscurity; for brightness, [but] we walk in darkness. Isaiah 59:9 "From everlasting to everlasting Thou art" (Psalms 90:2). "Thou art the same, and Thy years fail not" Psalms 102:27). "I am the Lord, and change not" (Malachi 3:6). He is the "incorruptible God" (Romans 1:23)
Some are articulate in claiming that the God of the Old Testament was a severe God and the God of the New Testament is loving. As we have studied throughout the history of God and His creation man as given in the holy Bible, God has the same characteristics but is forced to deal with man who changes at will. The New Testament proclaims, "Behold therefore the goodness and severity of God: on them which fell, severity; but toward thee, goodness, if thou continue in [his] goodness: otherwise thou also shalt be cut off" (Romans 11:22).
For example, as God spoke through the prophet of old, "[At what] instant I shall speak concerning a nation, and concerning a kingdom, to pluck up, and to pull down, and to destroy [it]; If that nation, against whom I have pronounced, turn from their evil, I will repent of the evil that I thought to do unto them. And [at what] instant I shall speak concerning a nation, and concerning a kingdom, to build and to plant [it]; If it do evil in my sight, that it obey not my voice, then I will repent of the good, wherewith I said I would benefit them" (Jeremiah 18:7-10).
In reality then, God has not and does not change but consistently deals with man where God finds him. God from the very beginning planned (purposed) how He would save a repentant person. Those before the cross in their ignorance of the cross were to follow the plan of the "shadows" of the cross. Those after the cross are to follow the revelation of the substance of the cross (Colossians 4:18).
As Jesus told the woman at the well, God has always sought those who would worship Him in spirit and truth (John 4:24). That order of worship was subject to where the man was in relation to the cross. The Temple at Jerusalem was acceptable only before the cross.
"These things change not." The author H. J. Wilmot Buxton (1893) has a list of how he perceives that God is unchanging: (1) "God's justice is unchanging"; (2) "the lovingkindness of God is unchanging"; (3) "the tender care of God for us is unchangeable"; and (4) "His forgiveness is unchangeable" (H. J.Wilmot Buxton, M. A., author 1893).v
It is easy to agree with Mr. Buxton's conclusion when one considers what Jesus considered "heavy matters" of the Law (of Moses). The unchangeableness of God and Jesus is in their character and nature; their concepts of right and wrong. For Jesus included right and wrong in what He referred to as, "the weightier [matters] of the Law, judgment, mercy, and faith" (Matthew 23:23). They were important because they had to do with the holiness of God and hence, His unchangeable character. "Justice and judgment [are] the habitation of thy throne: mercy and truth shall go before thy face" (Psalm 89:14). "Be ye holy as I am holy" (1 Peter 1:16). The Pharisees were strict in tithing, etc., but had ignored these essentials.
(1) God's Justice: Judgment. KrisisG2920; as Thayer's definition, #3 "especially, concerning justice and injustice, right and wrong; sentence of condemnation, and punishment"; #5 "right, justice." His righteousness (justice) is said to "endure for ever" (Psalms 111:3). This is true because God is "holy" (hosios G3741). "Just are you, O HolyG3741 One, who is and who was, for you brought these judgmentsG2919" (Revelation 16:5). "God [is] trustworthyG4103, and there is no injusticeG93 in him; justG1342 and sacred(hosiosG3741) [is] the LORD" (Deuteronomy 32:4b, ABPen).
(2) Lovingkindness: Mercy. "Lovingkindness" in Hebrew checedH2617 includes "mercy" (Mickelson's). "His goodness and His mercy endure for ever" (Psalms 111:3). Greel, EleosG1656; as Thayer gives its definition, mercy: #1, kindness or good will towards the miserable and the afflicted, joined with a desire to help them."
(3) Unchanging care: Faith. Pis'-tisG4102; as Thayer's definition, #2, fidelity, faithfulness; a. the character of one who can be relied on. Of His truth and faithfulness, "His truth endureth forever" (Psalms 117:2). "A God of truthG4103 and without iniquity, just and right [is] He" (Deuteronomy 32:4b, ESV2011, Compare #1 above).
(4) Forgiveness: God's purpose (counsel). "The counsel [purpose, planvi] of the LORD standeth for ever, the thoughts of his heart to all generations" (Psalms 33:11). "Who verily was foreordained before the foundation of the world, but was manifest in these last times for you," (1 Peter 1:20). "Now to him that is of power to stablish you according to my gospel, and the preaching of Jesus Christ, according to the revelation of the mystery, which was kept secret since the world began, But now is made manifest" (Romans 16:25,26). "And we know that all things work together for good to them that love God, to them who are the called according to [his] purpose" (Romans 8:28). "Who hath saved us, and called [us] with an holy calling, not according to our works, but according to His own purpose and grace, which was given us in Christ Jesus before the world began," (2 Timothy 1:9).
*covenant or testament (Greek: diathekeG1242)
In summary, God is always just, merciful, and faithful -- always --under every covenant era. What does God expect of man? Obviously, the same. We are to treat one another with justice, mercy, and faithfulness in all social relationships. If we love our fellows, we will do these things and fulfil the Law of Christ (Galatians 6:2). "Be ye holy as I am holy." Our conclusion would therefore be that out goal should be to be holy like God. God has given us the necessities: 1. His Son Jesus loved the church; 2. He gave Himself for the church; 3. His purpose was to sanctify [hagiazoG37] and cleanse its members with the washing of water by the Word; 4. to present it to Himself a glorious church, holy [hagiosG40] and without blemish (Ephesians 5:25-27). Should this not mean, as Christians, and a church, we must render justice, mercy, faithful caring, and forgiveness in our dealings?
--Excerpt From MARRIAGE MADE FROM HEAVEN, by Gaylon West
"To do justice and judgment [is] more acceptable to the LORD than sacrifice" (Proverbs 21:3).

"Throw Out the Lifeline"
http://www.BibleStudyLessons.net