MARRIAGE ON THE MOUNTAIN #3
subtitle: "Avoiding Eisegesis"
scroll down > >>
I wanted to pause here in the midst of studying Jesus' "sermon on the mount" to urge Bible students to look at the passage with objective eyes. There is always the danger of "proof texting." Proof texting is a label applied "to the practice of using isolated quotations from a document to establish a proposition. Critics note that such quotes may not accurately reflect the original intent of the author."i
I've written before about teachers making the Bible say what they want it to say. The Pharisees did that under the guise of "oral teachings passed down from Moses." Jesus warns in the sermon's context of Moses and the Prophets that one's righteousness must exceed that of the Pharisees (Matthew 5:20).

My teaching friends use Luke 13:3 to prove that "repentance" is a "step in obeying the gospel." It uses the words that they wish to use and so regardless of how Jesus is using it, they will use it as their proof text. You may ask, "What's wrong with proof texting?" To which I would ask, "Is it not only violating God's Word but is it not encouraging the wrong approach to Bible study?"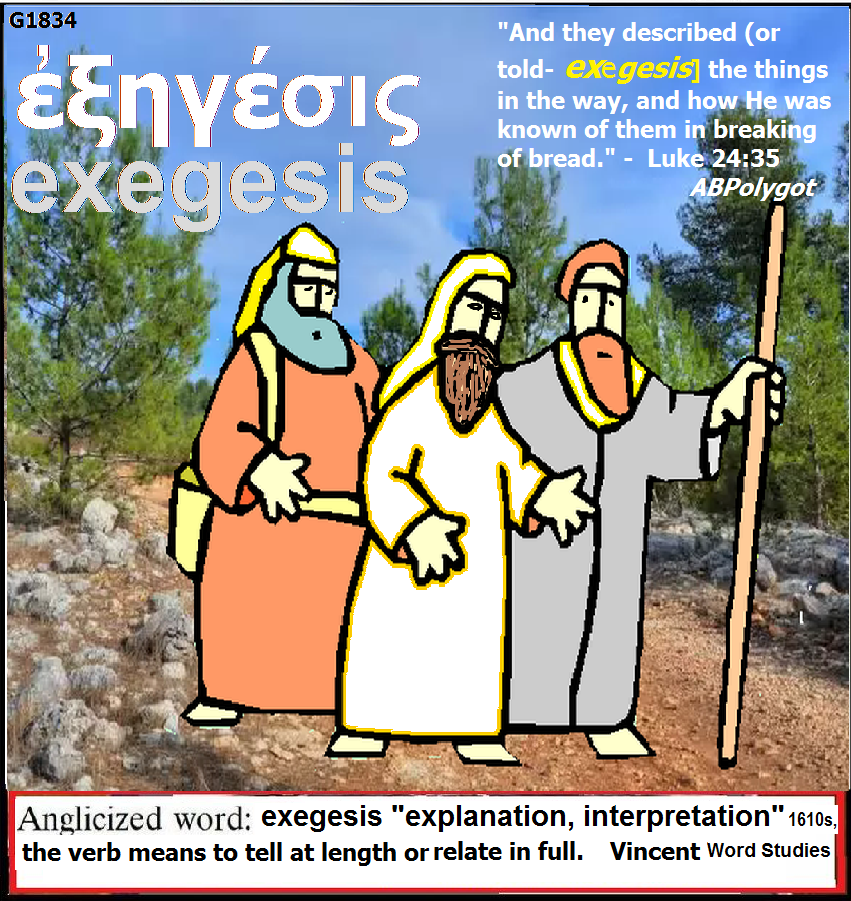 There are two major approaches in studying the Bible: (1) exegesis and (2) eisegesis. Exegesis is the good approach; it is an explanation of a text based on a careful, objective analysis. The word is from Greek; you may have noticed the commonly used prefix "ex", which means "out of" (e.g. exodus). The word exegesis literally means "to lead out of." That means that the interpreter is led to conclusions by following the text.
The bad approach to Scripture is eisegesis, which is the interpretation of a passage based on one's subjective, non-analytical reading. This is also a Greek word; notice the prefix eis meaning "into"; e.g., baptized into Christ (Romans 6:4); "repent and be baptized eis the remission of sins" (Acts 2:38). The word eisegesis literally means "to lead into," which means "interpreting a text (as of the Bible) by reading into it one's own ideas" (Merriam-Webster online).ii

Whenever a teacher wants to be like the Pharisees that Jesus condemned (Matthew 15; 23), he believes something in his heart and then goes to find a passage that looks like it can support his professed idea. An example would be that you don't want to be believe in obeying Jesus in baptism. So you go to the thief on the cross. Jesus didn't tell the thief that he had to be baptized; nevertheless He told him he would be with Jesus in Paradise.
We know nothing about the man except that he, a doomed convicted thief, confessed Jesus as the imminent King of the Jews as he hang on a neighboring cross. Nevertheless, eisegesis can say that every Gentile can be saved just like the thief. Of course, neither Jesus nor His apostles said anything close to that. But it does say everything the interpreter wants it to say. That's why some argue that you can make the Bible say anything you want it to. Unfortunately, by eisegesis the Devil could also make Eve believe that God did not mean what He had said about dying.
In the midst of the sorrow brought on by Adam and Eve's sin, God gives them (and us) hope of redemption and deliverance from the power of death. Herein is a prime example of "eisegeting."
"And I will put enmity between thee and the woman, and between thy seed and her seed; it shall bruise thy head, and thou shalt bruise his heel" (Genesis 3:14-15).
"Wherefore, as by one man sin entered into the world, and death by sin; and so death passed upon all men, for that all have sinned: (For until the law sin was in the world: but sin is not imputed when there is no law. Nevertheless death reigned from Adam to Moses..." (Romans 5:12-14).
God had a plan purposed from the beginning. We read in Ephesians 1:3-5) "Blessed [be] the God and Father of our Lord Jesus Christ, who hath blessed us with all spiritual blessings in heavenly [places] in Christ: According as he hath chosen us in him before the foundation of the world, that we should be holy and without blame before him in love: Having predestinated ["predetermined"] us unto the adoption of children by Jesus Christ to himself, according to the good pleasure of his will."
God planned the adoption of children by Jesus to God, according to God's will. When did He make this plan? His Spirit teaches that it was formulated prior to the founding of the world. That is, at the conception of the "kosmos," God (Colossians 2:9) had the plan for the rescue of the perishing souls through Himself; i.e., His Son Jesus.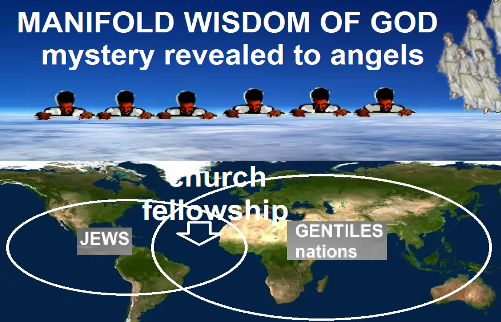 Ephesians 3:10 "now unto the principalities and powers in heavenly [places] might be known by the church the manifold wisdom of God"

"Having made known unto us the mystery of his will, according to his good pleasure which he hath purposed in himself: That in the dispensation of the fulness of times he might gather together in one all things in Christ, both which are in heaven, and which are on earth; [even] in him:" (Ephesians 1:9-10).




Some teachers misinterpret Ephesians 3:10 by eisegeting it as a command for the church to preach God's will. There are other passages that do that. However, this passage does not do that. To make it say that requires an ignoring of the context and a twisting of the grammatical structure. This destroys the beauty and power of this verse. The passage follows the theme of the first chapter and states that God's plan of redemption of man (v. 11), which was hidden from the beginning even to the powers in heavenly places, includes that the Gentiles should be in the same body and fellowship as the Jews (v. 6), in the church (v. 10). "To the intent now unto the principalities and powers in heavenly places [includes angels] might be known by the church the manifold wisdom of God, According to the eternal purpose which he purposed in Christ Jesus our Lord" (Ephesians 3:10, 11). The church was in the eternal purpose (plan) of God.





Notice that Peter explains it this way: "Of which salvation the prophets have enquired and searched diligently, who prophesied of the grace [that should come] unto you: 11 Searching what, or what manner of time the Spirit of Christ which was in them did signify, when it testified beforehand the sufferings of Christ, and the glory that should follow. 12 Unto whom it was revealed, that not unto themselves, but unto us they did minister the things, which are now reported unto you by them that have preached the gospel unto you with the Holy Ghost sent down from heaven; which things the angels desire to look into" (1 Peter 1:10-12).





1. The prophets told of the glory that would follow Jesus' crucifixion. 2. They did not understand God's plan although they enquired. 3. This included the angels. That means the Devil, a member of the principalities and powers "in heavenly places", DID NOT understand God's eternal plan. When the devil bruised the child's heel (Genesis 3:15), he ignorantly set in motion the series of events that bruises his head.



The crucifixion of Jesus and the consequent building of Christ's church (Matthew 16:18) was not an afterthought, but actually in God's mind from the beginning. Before the conception of the world, God had planned for man's redemption (Ephesians 1:4). Since Jesus and the New Covenant was in God's plans and since Jesus is the aim of the Law of Moses (Galatians 3), God had planned for the Law of Moses and how it dealt with sins. The Law of Moses is not against God but is in His scheme of redeeming mankind. That, to me, is the beauty of our loving "God's manifold wisdom."








THROW OUT THE LIFELINE

Gaylon West

http://www.BibleStudyLessons.net

i http://en.wikipedia.org/wiki/Prooftext

ii http://www.gotquestions.org/exegesis-eisegesis.html#ixzz35mnpatfb



See also "MARRIAGE ON THE MOUNTAIN":