A TARGET FOR MAN:
PROOF OF AN UNCHANGING GOD
scroll down > >>
LAW IS THE TARGET FOR MAN'S LIFE
Deism is the view that an extremely intelligent and powerful being created the universe, but he no longer has any contact with the universe. Nor does this being respond to the prayers and concerns of people. This creator is akin to a watchmaker who makes a watch, winds it up, and then walks away from it forever. Deism was popular among American and European elites during the time of the American Revolutionary War. Thomas Jefferson is said to have been a deist.a
A variation might be the view of a Creator who finally decides to inspect His creation, comes back and sees a troubled world and decides to save some of the creatures. However, the God of the Bible is not like that. He has always cared for His creation. One proof is in His Laws.
"Law" in Hebrew, according to the Ancient Hebrew Lexicon of the Bible, is towrahH8451 and means, "teaching: The direction one is to take in life." Brown-Driver-Briggs' Hebrew Definitions defines it as "law, direction, instruction" and says it originated from yarahH3384 that has the idea of being directed, thrown or shot (like an arrow)." The equivalent in Greek is nomosG3551 that carries with it the same idea of "law (through the idea of prescriptive usage)."i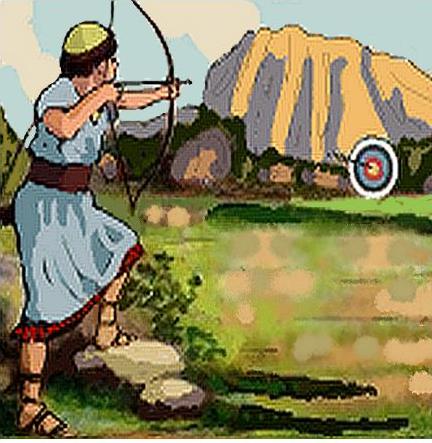 SIN IS FALLING SHORT OF OUR TARGET
The image of law is suggested to me by a shooting arrow that is focused to hit a specific mark, such as a bullseye. And to miss that mark is "sin." Mickelson's dictionary defines the Hebrew for sin as "to miss."ii Thayer identifies the Greek as "to miss the mark; to err, be mistaken; to miss or wander from the path of uprightness and honour, to do or go wrong; to wander from the law of God, violate God's law, sin."iii
The Bible defines sin by describing it. "All unrighteousness is sin" (1 John 5:17). Again, sin is "lust conceived": "Then when lust hath conceived, it bringeth forth sin" (James 1:15). One can sin by being a respecter of persons: "But if ye have respect to persons, ye commit sin, and are convinced of the law as transgressors" (James 2:9). One who knows to do good can sin by not doing good ( James 4:17 ). "Whosoever committeth sin transgresseth also the law: for sin is the transgression of the law" (1 John 3:4). If one doesn't believe in Jesus today, he has sinned; he misses God's target in life for him (Galatians 3:22)
In short, God's law is what we are supposed to do in life and sin is not doing it. We can say that God has given man a target for life. If he misses his target, he is a sinner.
We sometimes think of God's Law as been just commandments, but God's Law is more than that. For example, God's "perfect Law" in Psalms 19:7-9 consists of testimony (witness), statute (appointed mandate), commandment (ordinance), fear (instructive moral reverence), and judgment (righteous decree). " In keeping of them (listed aspects) [there is] great reward" (Psalm 19:11).
GOD'S LAW EXISTED FROM THE BEGINNING
" Wherefore, as by one man [Adam] sin entered into the world, and death by sin; and so death passed upon all men, for that all have sinned" (Romans 5:12).
SIN HAS EXISTED: THEREFORE, LAW HAD TO HAVE EXISTED
We know that God's law has existed from the beginning because sin has existed since the beginning. If all men (from Adam on) have sinned, then God has set a target by law from the beginning.
THE LAW OF MOSES WAS AN ADDITION TO LAW
The Law of Moses was (1) added because of transgressions in order to (2) tutor for the coming of the Seed (Jesus) and the faith in His gospel. "Wherefore then [serveth] the Law [of Moses]? It was added because of transgressions, till the seed should come to whom the promise was made" (Galatians 3:19). "Added" is prostithemi G4369; i.e., "to place additionally, i.e. lay beside, annex, repeat" (Mickelson).
The Law of Moses was added because of transgressions (parabasisG3847, "violations"). Violations of what? The apostle explains that before the Law of Moses there was sin in the world. "For until the law [i.e., the Law of Moses] sin was in the world: but sin is not imputed when there is no law" (Romans 5:13). In order for there to be sin there had to be law (compare 1 John 3:4).
This means that we should be able, if God has revealed it, to find God's law existing before Moses. And we do.
JESUS IS THE SON OF GOD. GOD SO LOVED THE WORLD THAT HE SENT HIS SON TO DIE FOR IT. Some would have us to believe that God has changed from uncaring or downright hostility toward man and that in Jesus He changes by caring for man. The fact that God has always given man a target for living shows that God has cared all along. Our God is unchanging.
Gaylon West
"THROW OUT THE LIFELINE"
BibleStudyLessons.net
a http://www.majorreligions.com/god_eight_views_of.php. Accessed 8/4/2014.

iDefined by Mickelson's Enhanced Strong's.
iiihamartiaG266
See article: article: article: article: