At times He can be seen in bodily form and He moves people physically, even the Lord while He was in human form. He appeared to Jesus at His baptism in a body resembling a bird, a dove (Luke 3:22). "And Jesus being full of the Holy Ghost returned from Jordan, and was led by the Spirit into the wilderness" (Luke 4:1; Matthew 4:1). Mark 1:12 states that "the Spirit driveth him forth" (i.e., literally cast Jesus into the wilderness). Later, the Spirit spoke to prophets and worked very much like He did in the Old Testament. "For the prophecy came not in old time by the will of man: but holy men of God spake as they were moved by the Holy Ghost" (2 Peter 1:21).
F
igures
of Speech.
The Near East languages are noted for their figurative expressions. It shows in the New Testament language, e..g, of "spirit." Paul writes "For I verily, as absent in body, but present in spirit, have judged already, as though I were present" (1 Corinthians 5:3, 4). Man has a body and spirit (1 Thessalonians 5:23). To literally separate the two literally would mean death for Paul (James 2:26). So "spirit" is used figuratively by him.
Although God is in Heaven, He speaks as being among His people. "And I will dwell among the children of Israel, and will be their God" (Exodus 29:45). It is said of the church as well. "As God hath said, I will dwell in them, and walk in them; and I will be their God, and they shall be my people" (2 Corinthians 6:16). God's glory filled the tabernacle (Exodus 40:34). David and Solomon desired to build God a house but passages like 1 Kings 8:27 indicated that Solomon knew that literally this was not possible: "Behold, the heaven and heaven of heavens cannot contain thee; how much less this house that I have builded?" As Stephen proclaimed, "But Solomon built him an house. Howbeit the most High dwelleth not in temples made with hands" (Acts 7:48). God sits on His throne literally in Heaven (Matthew 5:34). His dwelling on earth is figurative.
Jesus also promises to abide with the faithful and to be in the midst of two or three gathered in His name (Matthew 28:18-20; 18:20). Also, "That Christ may dwell in your hearts by faith; that ye, being rooted and grounded in love" (Ephesians 3:17). But literally, Stephen said, "I see the heavens opened, and the Son of man standing on the right hand of God" (Acts 7:56). Jesus is literally in Heaven but figuratively is present and dwells in our hearts by "the faith" (i.e., Scriptures, Jude 3). In 1 John 5:7, the Spirit is said to be in Heaven with the Father and Jesus, the Word. Yet, in verse 6 and verse 8 not only is Jesus figuratively as water and blood bearing witness on earth, but the Spirit is bearing witness as well. He is called by John the Spirit of Truth (that Jesus promised to send to His apostles in John 16:13). This was fulfilled in Acts 2 when the apostles spoke as the Spirit gave them utterance and Peter promised the gift of the Spirit not only to those that obey the gospel then but in the future as well.
Notes on figurative language in the Bible.
1. One of the things we taught in ESOL classes was the English language use of figurative language. We used several booklets with listings for the American English using such. This was important for English second language students.

Gaylon West


2. The total number catalogued of figures of speech is more than 500 (E. W. Bullinger, Figures of Speech Used in the Bible, Grand Rapids:1899, Baker, p. ix).

i http://www.biblicalresearchjournal.org/brj-pages_pdf/001ewb_figures_of_speech.pdf


3. J. Noel Meridith. Figurative Language in the Bible.

ii http://www.theexaminer.org/volume8/number5/language.htm


4. "Bible is full of figurative language."

iii https://bible.org/seriespage/iv-literary-forms-bible


5. "Don't hide your light under a bushel" (Matthew 5). Such Biblical figures are so strong that they have actually become part of our language.
6. Throughout history, writers use figurative language to help readers understand their texts and bring their text to life. In ancient Greece, figurative speech was a crucial element in literature.

iv http://www.bookrags.com/essay-2006/6/18/192931/243/#gsc.tab=0


7. The Hebrew literature (OT) is highly figurative.

v https://prezi.com/nqxf8rbve2cu/figurative-language-is-everywhere/
Using the Word "Spirit" Figuratively
The words Christ spoke were "Spirit and life ..." (John 6:63, 68). They were "Spirit" in that they were revealed by the Spirit and recorded under inspiration of the Holy Spirit in order that we might have life.
Jesus had the Spirit without measure. "For he whom God hath sent speaketh the words of God: for God giveth not the Spirit by measure unto him" (John 3:34). We know that the Holy Spirit was literally with Jesus and acted with Him. "Then was Jesus led up of the Spirit into the wilderness to be tempted of the devil" (Matthew 4:1). So, what does it mean that Jesus "had the Spirit" without measure?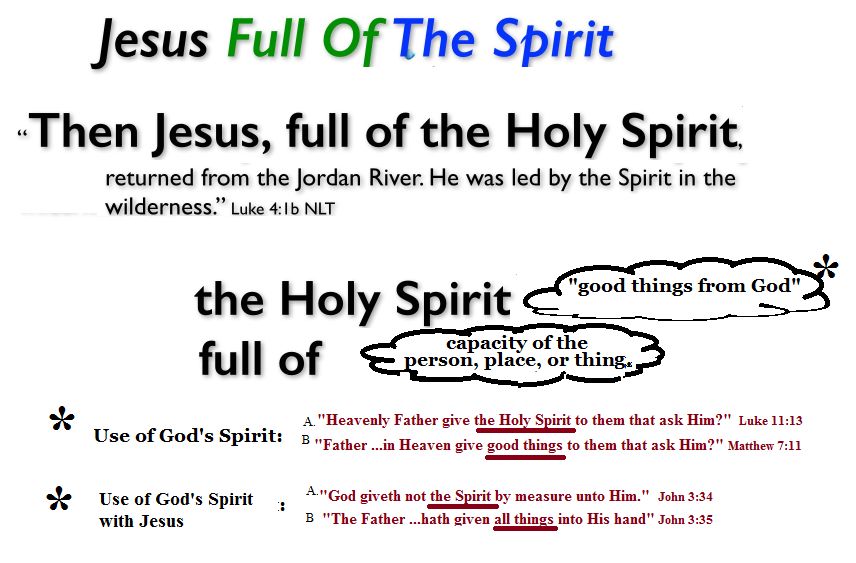 What did this expression mean in this context? Jesus continues by explaining, "The Father loveth the Son, and was given all things into his hand" (John 3;35). God the Father "gave" Jesus the Spirit; but what did the Father give to Jesus? Jesus explained that He was given all things; in other words, whatever He wanted to do was at His beck and call. Power was given to Him; but the power was given through the Spirit. Hence, "the Spirit" by metonomy stands for what the Spirit bestowed on Jesus. Though in the flesh and divested of His deity powers (Philippians 2:6), He had been given complete (pas) control of things, for example, nature. The Spirit was used with metonomy to stand for "these things."*
* metonomy: part for the whole; e.g., "drink the cup" in Lord's Supper. English dictionary: the substitution of the name of an attribute or adjunct for that of the thing meant, for example suit for business executive, or the track for horse racing.
Again, Jesus used the giving of the Holy Spirit figuratively. "If a son shall ask bread of any of you that is a father, will he give him a stone? ... If ye then, being evil, know how to give good gifts unto your children: how much more shall your heavenly Father give the Holy Spirit to them that ask him?" (Luke 11:9-13).
In the sermon on the mount Jesus uses the same context but speaks literally. "Or what man is there of you, whom if his son ask bread, will he give him a stone? ... If ye then, being evil, know how to give good gifts unto your children, how much more shall your Father which is in heaven give good things to them that ask him?" (Matthew 7:7-11).
It can readily be seen at least in this instance, that when Jesus spoke of God giving the Holy Spirit, He spoke figuratively of God giving good things from heaven to the one praying via the Holy Spirit. "All good and complete gifts comes from above and from the Father of lights" (James 1:17).
CONCLUSION.
The Bible uses the Holy Spirit in figurative and literal references. The ministry of Jesus tells us that the Spirit is used in both ways. The Holy Spirit is a real divine person. Since He is a person it is wrong to interpret Him as being a thing or it which would be parsed about among believers. The gospel is authorized by the name of the Father, the Son, and the Holy Spirit. Therefore, the gospel is from all three which includes the Holy Spirit. We should not interpret "the gift of the Holy Spirit" literally. Jesus tells us that it is an expression that means "good things" from God.




-Gaylon West
THROW OUT THE LIFELINE
Other articles in this series, The Gift of the Holy Spirit:
---
i "An Armchair Scholar Answers Jehovah's Witnesses: The Holy Spirit & Matthew 28:19." Argument for the Holy Spirit as a Person and not just a force. http://www.thearmchairscholar.org/id19.html.