LEAVING THE DOCTRINE OF BAPTISMS #10
THE BAPTISM OF MANIFESTATIONi
BASIC TEXT for "Baptisms" Study: Hebrews 6:1, 2
Did Jesus have to confess sins in His being baptized by John? Was Jesus only baptized as an example for us to follow today?
"And all the people that heard him, and the publicans, justifiedii God,being baptized with the baptism of John. But the Pharisees and lawyers rejected the counsel of God against themselves, being not baptized of him" (Luke 7:29-30).
Basic Statement: John's baptism "justified" God's counsel. In the midst of His eulogy of John the Baptist, Jesus so stated this Truth (Luke 7:29-30). Thus, when God commands, His counseliii is the "right" and just thing for one to do. Sinners were so commanded, but why would this command "to be baptized" include Jesus?
The right thing to do. First of all, we reiterate that John's baptism justified God's counsel for the purpose of purifying Jewish sinners, making them ready for the coming Lord (Luke 1:17). For them, God's counsel was to receive "the baptism of repentance unto the remission of sins" (Luke 3:3). This characteristic included confession of sins.
As it is written, "Then went out to him Jerusalem, and all Judaea, and all the region round about Jordan, And were baptized of him in Jordan, confessing their sins" (Matthew 3:5,6). "And he came into all the country about Jordan, preaching the baptism of repentance for the remission of sins" (Luke 3:3,4).
It was the right thing for Jewish sinners to (1) confess their sins, (2) repent of their sins, and (3) in order to be forgiven of their sins. They thereby were prepared for the Lord and His kingdom.
Second of all, Jesus justified God by being baptized by John for a special purpose. He urged John, "Thus it becometh us to fulfil all righteousness [justificationG1343]iv" (Matthew 3:15b). According to Jesus, fulfilling all justification required Him also to be baptized of John. God's counsel was for all Jews to be baptized of John; this included the body of Jesus that had been prepared by God (Hebrews 10:5, 10; 5:8).
But Jesus Was Not A Sinner. Therefore, Jesus' baptism could not be for the confession of sins. It was not for repenting of sins; it was not for the remission of sins. So His baptism had to have been for another purpose than his countrymen.
Jesus Was A Good Man. John the Baptist knew Jesus as a person (his cousin). He testified that Jesus was not a subject for the general purpose of baptism: "But John forbad him" (Matthew 3:14). John as a prophet would know the hearts of men (John 4:17-19); he had refused the Pharisees rightly as a "generation of vipers" because they had not repented (Matthew 3:7); now, he refused Jesus for the opposite reason. Jesus did not need to repent.
Jesus Had A Good Reputation. Jesus was publicly known of men in a favorable way: "Jesus was advancing in wisdom, and in stature, and in favour with God and men" (Luke 2:52). Any judgment by the people concerning Jesus had to be the best. John would have known his cousin Jesus as a just person and he so indicated. Nathaniel implied the goodness of Jesus when he exclaimed surprise that Jesus could come from Nazareth (John 1:46).
God Testified Audibly From Heaven. At Jesus' baptism, the voice from Heaven testified, "My Son in whom I am well pleased" (Luke 3:22); God testified His divine approval of Jesus as a man. Peter by inspiration would later appeal to Jesus' public knowledge as being "righteous" (Acts 3:14). The writer of Hebrews says that Jesus had "no sin" (Hebrews 4:15); Peter in an epistle testified, "Who did no sin" (1 Peter 2:22).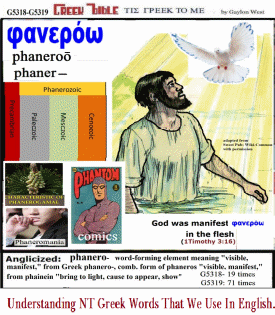 So Why Was "Sinless" Jesus Baptized? John's baptism for Jesus had to be for a second purpose. John said that God revealed that purpose to him. It was for the Lord to be manifested to John and the people. "This is He of whom I said, After me cometh a Man which is preferred before me: for He was before me. And I knew him not:* but that He [the Lord] should be made manifest to Israel, therefore am I come baptizing with water" (John 1:30, 31). *note: "John knew the person as superior to himself ['I have need to be baptized of thee'] but not that He was the Messiah."
The word "manifested"v translates the Greek φανερόωG5319 which according to Strong's Dictionary is "to render apparent (literally or figuratively): - appear, manifestly declare, (make) manifest (forth), shew (self)."
Manifesting The Messiah. Jesus is "the Anointed One"vi of prophecy (Matthew 1:1). John the Baptist declared, "This is the Son of God" (John 1:34); "Behold, the Lamb of God" (John 1:36). As a result, the first thing that John's disciple Andrew did "was to find his brother Simon and say to him, 'We have found the Anointed One!' (which is translated 'Messiah')" (John 1:41, ISV; YLT).
Hence, we must conclude that Jesus was baptized for a second purpose. His was not because of purification from sin but to "manifest the Lord to Israel." It was a second reason why John says he "came baptizing with water."
Continued...
GAYLON WEST
THROW OUT THE LIFELINE
BIBLESTUDYLESSONS.NET
---