LEAVING THE DOCTRINE OF BAPTISMS #12
"THE MEDIUMS FOR BIBLE BAPTISMS"
BASIC TEXT for "Baptisms" Study: Hebrews 6:1, 2 12.
We focus now on the various medium[s] used in Bible baptisms. Water is not the only substance used for baptisms in the Bible. This doesn't mean we can have our pick for a baptism today. The substance depends on the type of baptism mentioned and if it's authorized for today.
Vocabulary.
medium: "an intervening substance, as air, through which a force acts or an effect is produced"; "a condition or environment in which something may function or flourish: Ocean fish live in a medium of salt water." -Merriam-Webster Online.
Although the word "baptism" conjures up pictures of water, the verb action in the original language is not limited to water.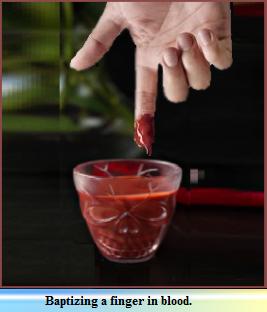 In the first century AD, the word for baptism (Gr., bapto) was understood from the universally accessible Greek version of the Old Testament as a command or description of certain actions of dipping and immersion. For examples: the finger was to be baptized in blood (Leviticus 4:6, 17; 9:9); out of two birds, the live one is baptized in the blood of the dead one (Leviticus 14:6 & 51); the priest's right finger is baptized in oil (Leviticus 14:16); Asher is to baptize his foot in olive oil (Deuteronomy 33:24); the feet of priests were baptized in Jordan (Joshua 3:15); food is baptized in vinegar (Ruth 2:14); foot is baptized in enemies' blood (Psalm 68:23); Jonathan baptizes a rod in honeycomb (1 Samuel 14:27); one being baptized in a ditch of filth (Job 9:31); hyssop is to be baptized in blood (Exodus 12:22; Numbers 19:18); cloths are baptized in dye (Judges 5:30); rags baptized in water (2 Kings 8:15); a thing touched by death is to have a protracted baptism in water (Leviticus 11:32); Naaman has seven baptisms in water (2 Kings 8:14); a king's body is baptized in dew from heaven (Daniel 4:33; 5:21); the prophet Isaiah is baptized in lawlessness (Isaiah 21:4).
For added study on the Hebrew and Greek word (baptism), I recommend the articles at: https://christianity.stackexchange.com/questions/9202/was-baptism-practiced-before-christ. 06/21/2019; https://www.christiancourier.com/articles/266-who-was-john-the-baptist. 6/21/2019
Some examples in the New Testament that are in addition to the religious acts of water baptism that we've studied:
(1) Jesus speaks of His baptism in suffering and passion (compare with His cup; Matthew 20:23; Mark 10:38); (2) a request is made for Lazarus to baptize his finger in water (Luke 16:24); (3) a morsel of food is baptized during the last supper (John 13:26); and finally, (4) a cloak is baptized in blood (Revelation 19:13).
In all these occasions, there should be no doubt that baptism is an immersion or an overwhelming of a substance, literal or metaphorical. I wish to make this point: some religionists claim that since the blood on the finger sprinkles the audience, a mode of baptizing can therefore be sprinkling. Surely, we can sensibly ask, "Was the audience baptized with the blood or was it not the finger?" Two different actions. Two different subjects (finger and audience).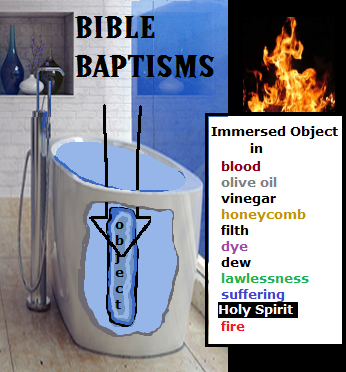 John the Baptist predicted the unique baptizing inG1722 the Holy Spirit plus a baptizing in fire. The four recordings:
"I indeed baptize you in water unto repentance: but he that cometh after me is mightier than I, whose shoes I am not worthy to bear: he shall baptize you in the Holy Spirit and in fire:" (Matthew 3:11, ASV).
"I baptized you in water; But he shall baptize you in the Holy Spirit." (Mark 1:8, ASV).
"John answered, saying unto them all, I indeed baptize you with water; but there cometh he that is mightier than I, the latchet of whose shoes I am not worthy to unloose: he shall baptize you in the Holy Spirit and in fire" (Luke 3:16, ASV).
"And I knew him not: but he that sent me to baptize in water, he said unto me, Upon whomsoever thou shalt see the Spirit descending, and abiding upon him, the same is he that baptizeth in the Holy Spirit" (John 1:33, ASV).
These were attributed exclusively to Jesus. No man is ever mentioned as doing these or having such resulting power. Only Jesus. There are two entities. The baptism in fire is distinct from the Holy Spirit. The day of Pentecost, as some have preached, has no record of fire (tongues were "like" fire, a resemblance). John the Baptist explained what the baptism of fire was. As John said: He will separate the wheat from the chaff and "He will burn up the chaff with unquenchable fire" (Matthew 3:12; Luke 3:17). Later, Jesus' apostle would write, "When the Lord Jesus shall be revealed from heaven with his mighty angels In flaming fire taking vengeance on them that know not God, and that obey not the gospel of our Lord Jesus Christ: Who shall be punished with everlasting destruction from the presence of the Lord, and from the glory of his power" (2 Thessalonians 1:7b-9). Jesus is coming in flaming fire to punish. No, I don't think we want to be baptized with fire as some have erroneously taught.
Not only is Jesus the only one baptizing in fire, He is the only one mentioned baptizing in the Holy Spirit.
Jesus Never Baptized In Water. "When therefore the Lord knew how the Pharisees had heard that Jesus made and baptized more disciples than John, Though Jesus himself baptized not, but his disciples" (John 4:2). It is understood from this passage that Jesus' disciples did continue the water baptisms started by John which baptisms prepared for the coming kingdom (John 4:1,2). Jesus Himself eventually baptized groups of people on two occasions (according to the Scriptures) but only with the Holy Spirit: (1) His own Jewish apostles (Acts 1:4, 5; 2:1-4) and (2) a Gentile group (Acts 10; 11). Both occurred after His ascension. Neither had anything to do with water nor did they save anyone. The apostles on the one hand had already been saved with the water baptism of remission of sins which was preparatory (Mark 1:4; John 1:35).i On the other hand, the Gentiles (Cornelius' group) were gathered to "hear words to save them"; but when Peter started his sermon, Jesus baptized them with the Holy Spiritii, before and without their hearing the saving Word. Therefore, they were baptized in the Holy Spirit without any existing faith on their part (Acts 11:14, 15). The purpose of this baptism was to persuade Peter and his Jewish companions to allow a Gentile audience to be baptized in water which saves the believer (Acts 10:47).
GAYLON WEST
THROW OUT THE LIFELINE
BIBLESTUDYLESSONS.NET
---
iThe disciples of John had been baptized for the remission of their sins (Mark 1:4). They were hence saved disciples.
ii Peter compared it to the apostles' Spirit baptism "at the beginning" (Acts 11:15); i.e., Acts 2, beginning of the gospel.